Disney Interactive Studios
From Square Enix Wiki, the Fan-wiki for all things Square Enix
Jump to navigation
Jump to search
Disney Interactive Studios

Basic Information
Founded
1988 as Walt Disney Computer Software
2008 as Disney Interactive Studios
Founder(s)
The Walt Disney Company
Headquarters
Glendale, California, United States of America
Type
Video game developer, designer, and publisher
Key People
CEO
James Pitaro
President
James Pitaro
Products/Publications
Video Games
Kingdom Hearts
Epic Mickey
Disney Infinity
Castle of Illusion starring Mickey Mouse
TRON: Evolution

has more information on this company.

Disney Interactive Studios is an American video game company headquartered in Glendale, California. It self-publishes and distributes multi-platform video games and interactive entertainment worldwide. Most of the games released by Disney Interactive Studios are typically tie-in products to existing character franchises.
Disney Interactive Studios is a subsidiary of Disney Interactive and a part of the The Walt Disney Company.
History
Founded in 1988 as Walt Disney Computer Software, it generally used third-party development studios to design spin-off games using its existing portfolio of characters. On December 5, 1994, it was reorganized as Disney Interactive. It was to this brand and company that in February 2000, Shinji Hashimoto pitched the idea for Kingdom Hearts, a game that would be a collaboration between Squaresoft and Disney and feature various elements from both companies' works. The game was announced at E3 2001, noting the collaboration between the two companies, and was a success.
In 2003, Buena Vista Games spun out of Disney Interactive, and it was this branch of the gaming division that took charge of non-children's games, including the Kingdom Hearts series. It was this brand that was credited in the collaboration with now Square Enix in the development and release of Kingdom Hearts: Chain of Memories in 2004 and Kingdom Hearts II in 2005. In April 2005, Buena Vista Games purchased Avalanche Software from Salt Lake City, Utah and started Propaganda Games, a Vancouver, British Columbia based game development studio. In September 2006, Buena Vista acquired Climax Racing and formed Fall Line Studio in November 2006.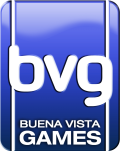 In 2007, The Walt Disney Company rebranded Buena Vista Games as Disney Interactive Studios, its current name and brand. Today, the studio publishes both Disney and non-Disney branded video games for all platforms worldwide, with titles that feature its consumer brands including Disney, ABC, ESPN, and Touchstone. On June 5, 2008, Disney Interactive Studios and the Walt Disney Internet Group, merged into a single business unit now known as the Disney Interactive Media Group,[11] and it merged its subsidiary Fall Line Studios with its sister studio, Avalanche Software, in January 2009.
In 2008, Disney Interactive Studios and Square Enix released Kingdom Hearts coded, followed by Kingdom Hearts 358/2 Days in 2009, Kingdom Hearts Birth by Sleep in 2010, Kingdom Hearts Re:coded in 2011, and Kingdom Hearts 3D: Dream Drop Distance in 2012. In October 2012, Disney Interactive Studios announced "Toy Box", a cross platform gaming initiative where Pixar and Disney characters would interact. The first of these is the now popular Disney Infinity franchise.
After the purchase of Lucasfilm by The Walt Disney Company in 2012, Disney Interactive assumed the role of developing Star Wars games for the casual gaming market, while Electronic Arts would develop Star Wars games for the core gaming market through an exclusive license.
In 2013, Disney Interactive Studios and Square Enix released a HD remake of three Kingdom Hearts titles, Kingdom Hearts HD 1.5 ReMIX, followed by Kingdom Hearts HD 2.5 ReMIX in 2014. Disney Interactive Studios is currently working with Square Enix in the development and publishing of the long-awaited Kingdom Hearts III, which was announced at E3 2013.
List of Games
Kingdom Hearts
Kingdom Hearts: Chain of Memories
Kingdom Hearts II
Kingdom Hearts Re:Chain of Memories
Kingdom Hearts 358/2 Days
Kingdom Hearts Birth by Sleep
Kingdom Hearts Re:coded
Kingdom Hearts 3D: Dream Drop Distance
Kingdom Hearts HD 1.5 ReMIX
Kingdom Hearts HD 2.5 ReMIX
Kingdom Hearts III